March 2009:
Federal funding shortfalls have resulted in the removal of buoys C02, D01, J02, and L01. Buoy F01 is also in jeopardy of being removed, although funds have been found to keep it deployed until fall 2009. Please contact Dr. Neal Pettigrew (nealp@maine.edu) with suggestions for additional funding to keep these important buoys active.

October 2008: University of Maine is funding Gulf of Maine buoy F01.
May 2008: New Meadows buoy D01 has been removed due to lack of funding.
October 2007: GoMOOS funding from the NE Gateway LNG Project is supporting Gulf of Maine buoy A01 (maintained by the University of Maine).
July 2007: NERACOOS is now providing funding for the Gulf of Maine buoys B01, E01, I01, M01 and N01 (maintained by the University of Maine).
October 2006: New Meadows buoy D01 established downriver from Cundy's Harbor.
October 2006: Dual wind sensors on all GoMOOS Gulf of Maine buoys.
October 2004: Barometric pressure measurements added to all GoMOOS buoys.
June 2004: A new site N01 has been established in the Northeast Channel, south of Browns Bank. Available data from this mooring include surface winds, waves, air temperature, and visibility as well as ocean temperature and currents at selected depths down to near-bottom.
October 2003: The GoMOOS mooring K01 (Saint John, New Brunswick) has been recovered. Due to funding shortfalls, it is not planned to redeploy another mooring at this time. Historical data are still available.
13 March 2003: Buoy L New Location Notice

NOAA's National Data Buoy Center (NDBC) operates and maintains the sites in black. on the above map.
Environment Canada operates and maintains site 44258 (in blue).
Wave modeling results are also available for the Gulf of Maine (Texas A&M)
Link to Current Moorings: Active files or Historical

Mooring Program Field Work: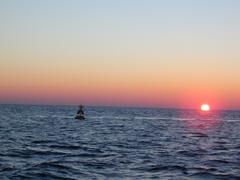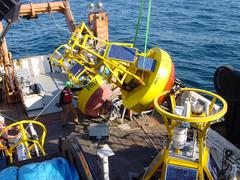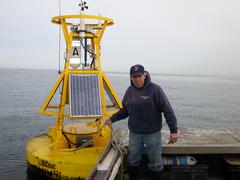 Operations during 2005 on R/V Argo Maine and Delaware; Buoy A repair on F/V Tully IV
(Photos courtesy of J.Wallinga(UME), S.Wagner(NOAA), and J.Wallinga (UME))
2009:

May 27-29, 2009: Buoys F01, I01 and J02 serviced by the R/V Argo Maine.
March 18-28, 2009: Buoys A01, B01, D02, E01, F01, I01, M01, and N01 serviced by NOAA Ship R/V DELAWARE II. C02 recovered.
January 8, 2009: Buoy I01 serviced by the R/V Argo Maine.
2008:


September 30 - October 2, 2008: Buoys A01 and B01 serviced by the R/V Argo Maine.
September 23-25, 2008: Buoys E01, F01, I01, and M01 serviced by the R/V Argo Maine.
April 15-24, 2008: Buoys A01, B01, C02, E01, F01, I01 and N01 serviced by the R/V DELAWARE II
Feb 3-4, 2008: Buoys L01, E01, and F01 serviced by the R/V Argo Maine
Jan 4, 2008: Buoy J02 serviced with the help of Heritage Salmon, Eastport.

2007 Field Work
2006 Field Work
2005 Field Work
2004 Field Work
2003 Field Work
2002 Field Work
2001 Field Work

References:
The GoMOOS Moored Buoy Design, J.Wallinga, N.Pettigrew, J.Irish, Oceans 2003: PDF or Word Doc file
Questions? Contact the Webmaster